Come along and take root at the curate's garden !
 The holidays give you a chance to get to know our village better, discover its heritage : stroll around, read, write back to the family and friends and let them know how much you're enjoying Seix !
Open your sense to the perfumes and fragrances of the garden …and consider taking away with you a little souvenir of Seix at a reasonable price !
For sale, at the Patrimoine association's headquarters, at the presbytery shop in the curate's garden :
A book about the artist René Gaston-Lagorre  €30
 Four large-format postcards of  the "Ronde des Saisons" by René Gaston-Lagorre, the artist, depicting in allegorical form the different activities associated with the four seasons, spring, summer, autumn and winter.
Price :  €1,50 each or € 5,00 for the set of 4.
 Miniature phials of essential oils : calendula, hypericum, savory .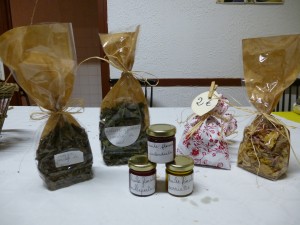 € 2,00 each
Sachets of dried sage or lavender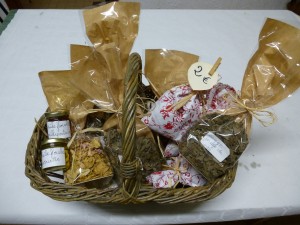 Lavande, sauge, pot pourri…